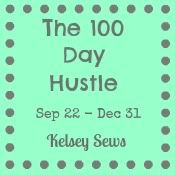 I am emerging from the Christmas blur more slowly than usual this year. I almost missed the final link up for the 100 Day Hustle over at Kelsey Sews!! Based on my original list from 99 1/2 days ago, I think I actually got quite a bit done...


Lucy's Crab Shack Quilt - completed on 10/25
Gypsy Caravan quilt - completed on 10/12
Hexagon Log Cabin quilt - completed on 9/28
Christmas Pixies quilt - this morphed into the Christmas Stars table runner, and although I didn't use the pixie panels, the all-over pixie print was used on the back so I am counting it!
Something scrappy - completed the Scrappy Log Cabin quilt with thanks to Jennifer at Ellison Lane Quilts for hosting a fun quilt along.
Sewed the sleeve on the back of the fab five wall quilt
Finished the rainbow pinwheel
I did not touch the Treasures & Tidbits quilt top or the navy and lime squares!! I didn't make any zippered pouches, nor have I finished my Kona sample cards or organized my pictures on the computer!! I started to create folders for finished projects, but the amount of time I just spent searching for the above photos proves that I really need to do a better job!!
I spent yesterday cleaning and rearranging the sewing room so I am ready to get 2013 off to a good start. I need some creative inspiration, but I am sure a little time spent on Pinterest will fix that! I am looking forward to a happy and creative new year and hope you are too!!
Happy Sewing and Happy New Year,