I have been working on this 16 patch quilt made from a jelly roll of Denyse Schmidt Florence and an assortment of coordinating solids. There are so many great colors in the collection of prints, it was so fun choosing solids that either matched or complemented them.
For each jelly roll strip, I cut a 2 1/2" strip of solid then used the strip piecing method to create the blocks. I cut the print strip and solid strip in half and assembled them like this:
Turning each strip set creates the checkerboard style blocks. I made sure that all my blocks have a print square in the upper left corner. As you can see, each pair of jelly roll/solid strips will make two identical blocks. My quilt top has 48 blocks so I needed 24 jelly roll strips to make it.
At 48" x 64", I think I want it to be a bit bigger for an ample throw quilt. It may get a border before it is done! How about a scrunchy shot to drink in all the yummy colors?!
Linking up with Heather and Meg at Quilt Story.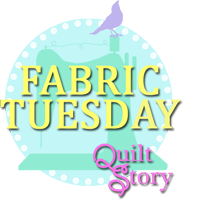 Happy Sewing,
Tessa Marie